First-class-luggage - Meet the luxury smart award-winning patent pending Carry-On. Featuring the largest built-in front compartment for easy access to your travel essentials, the First Class Luggage is designed for seamless, functional travel. Fits a 15" laptop and keeps it protected under the same aerospace-grade aluminum frame and polycarbonate shell as the rest of the case. Designed to fit in the First - class - luggage compartments and overhead bins of major US airlines and most international planes.
First-class-luggage - Outfitted with an water resistant and unbreakable aluminum frame and polycarbonate shell, an ultra-sturdy telescopic handle, whisper-quiet 360° spinner wheels, next generation intelligent design, sophisticated security features, and all-premium materials. All made with luxury, dedication, and love!
Our luxury smart Carry-On luggage is lightweight and has an international digital scale, so you could see how much weight you have just in case you want to check your luggage to put under the aircraft. 
Perfect for longer trips, it has a power-bank charger is TSA-approved, and safe to fly with. The battery is removable to carry on the plane with you or any where else. This luggage has true suitcase features with the main opening being a true seal with the side locks being TSA approved dual combination enhanced. 
The Bluetooth lock is TSA certified and is equipped with a GPS tracking device that is removable to use for other applications in your life, and these are controlled with a mobile app that is free to download on any Iphone or Android. 
We also include with every first class luggage an interior compression system and hidden laundry bag to make it easy to pack all of your essentials. With all these next generation materials and intelligent features, this luggage is built to stay relevant and to last. First-class-luggage, the Best luggage in the world right now! Welcome To Royalty!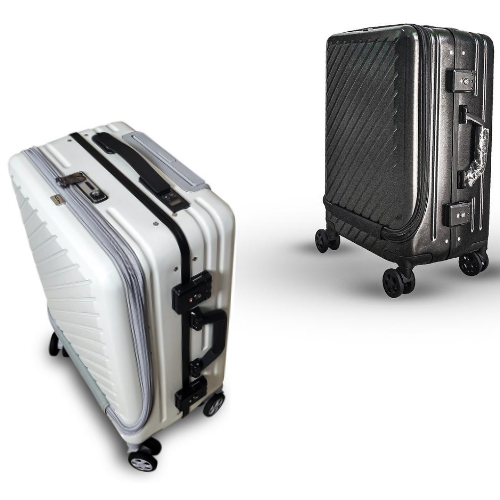 Front pocket:
- The largest shatterproof front pocket in the world
- Aerospace-grade aluminum frame and German polycarbonate hard shell
- Multiple interior pockets can fit a 15" laptop, tablets, or hardcover books
- Multiple interior pouches fit phones, batteries, cables, passports, sunglasses, or other small items
Luggage:
- Shatterproof Aerospace-grade aluminum frame and German polycarbonate hard shell
- International digital scale handle which enables you to always know how much your luggage weighs
- USB 3A Super-Fast-Charger and Ejectable battery that charges your laptop, phone and other portable devices
- TSA-approved Bluetooth-GPS lock with free moblie app and alarm setting to track your luggage
- TSA-approved dual combination lock for extra safety
- Silent Run 360° wheels that ensure a smooth ride
- Interior compression system with our enhanced 7 piece organizer system to help pack more in
- Adjustable telescopic handle for every size individual with 11 height settings
- Meets almost every major airline requirements as the largest carry-on luggage
- Exterior measurements: 22" × 15.5" × 9.5"
- Interior measurements: 20" × 14.5"
- Weight 9.4 lbs
- Capacity 50L
*Measurements include wheels and fixed handles.
--------------------------
We offer a 120-day trial for your first luggage. Try your new traveling partner, your luxury smart luggage, for 120 days. If you don't love it, send it back – no questions asked! Every other luggage after that is a 30 day money back guaranteed.
Our luxury luggage, excluding the electronic components, are guaranteed by a limited lifetime warranty that covers any damage to the shell, wheels, handles, zippers, and many other functional elements of our luggage.